Chillicothe Students To Present At MSBA Conference 9/21 6am
Students from Chillicothe's Central and Middle School will make a presentation at the Missouri School Board Association annual meeting in October. Superintendent Dr Roger Barnes says the students are part of the Steam Club.
<Audio:Dr Barnes 1>
Barnes says the Steam Club was formed last year from students that applied and it allows students to explore creativity and innovation within the parameters setup by their advisors. He says the students will talk about their experiences in the club.
<Audio:Dr Barnes 2>
They will also encourage other school district to begin similar clubs or classes.


School District Construction Remains On Pace 9/21 6am
The Chillicothe R-II School District construction projects are progressing well. Superintendent Dr Roger Barnes says many smaller projects are complete. Barnes says there is still some work to be done at Field School.
<Audio:Dr Barnes 1>
Barnes says at the site of the new elementary school, work continues.
<Audio:Dr Barnes 2>
Barnes says last weekend's storm tested the roof at the new school and high school.
<Audio:Dr Barnes 3>
Barnes says the work on the new elementary school remains on schedule for completion in May.


School Board Approves Surplus Books And Busses 9/21 6am
The Chillicothe R-II School District will dispose of surplus books. At Tuesday meeting, Superintendent Dr Roger Barnes says the board declare numerous books as surplus.
<Audio:Dr Barnes 1>
Dr Barnes says two busses were sold by the district.
<Audio:Dr Barnes 2>
When the surplus items are sold, the district puts that money back into the general fund.


No Arrests In Weekend DWI Saturation 9/21 6am
The Missouri Highway Patrol conducted DWI Saturation enforcement in Daviess and Caldwell County this past weekend. Sergeant Jake Angle from the Highway Patrol says the four officers involved issued four tickets and 42 warnings. No DWI arrests were reported from the saturation efforts.
Captain James E. McDonald, commanding officer Troop H in St. Joseph says, "One of the Missouri State Highway Patrol's highest priorities is removing the impaired driver from our roadways. If drinking is part of your plans, choose a sober designated driver."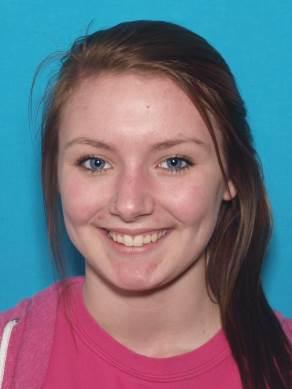 17 Year Old On Livingston County Most Wanted List 9/21 6am
A young woman is on the Livingston County Most Wanted list for alleged stealing a firearm. Seventeen year old Savana Marie Coke (right) is wanted on the warrant that carries a $15,000 cash only bond. Coke is described as a white woman, 5 foot 4 inches tall, 120 pounds, with brown hair and blue eyes. If you have any information, call the Livingston County Sheriff's Office.


Troopers Arrest Kingeston Man 9/21 6am
A Kingston man was arrested Wednesday evening. Sixty-two year old Howard Ballinger was arrested at 6:35 pm for alleged DWI. He was taken to the Caldwell County Detention Center on a 24 hour hold.


Friday Is Pink-Out Day In Chillicothe 9/20 12pam
The Chillicothe Fire Department and Hedrick Medical Center Emergency Department celebrate Pink-Out Day, Friday in Chillicothe. They have been selling Pink-Out T-Shirts for several weeks, including during Chautauqua in the Park. Lea Andersen from Hedrick Medical Center says the money will be used locally.
<Audio:Anderson 1>
This Friday was declared Pink-Out Day in Chillicothe and the Hornet Football Game is a Pink-Out game. Everyone attending is asked to where Pink to the game.
The fire department will also have a Pink-Out Boot Block downtown prior to the game on Friday.


55 and Go Winter Coat Drive 9/20 12pam
55 and Go continues the annual Winter Coat Project. Director Patty Mefford says they are collecting winter coats now.
<Audio:Mefford 1>
Mefford asks the donated coats be cleaned before dropping them off.
<Audio:Mefford 2>
The coats may be drop off at the 55 and Go/RSVP Center on Locust Street during normal business hours. Call 646-0010 if you have questions. Winter coats are distributed through many organizations throughout the community.


Blood Draw Clinic September 27th 9/20 12pam
The Livingston County Health Center will have a Blood Draw Clinic, next Wednesday, September 27th. The Blood Draw Clinic will be at 7:00 am at the health center, and most of the blood work requires fasting. The cost of the blood work will depend on the tests you are needing.
Tests available include: CBC Chem profile, Vitamin D, PSA, A1C. Lipid, TSH, CBC ONLY, Chem Profile Only, Thyroid Panel -without TSH and the B-12 test.
If you have questions about the cost, call the Livingston County Health Center at 646-5506. They do not take appointments for the Blood Draw Clinic.
They do remind any that knows that are a challenging blood draw to drink plenty of water before arriving.



Main Street Chillicothe Wine Walk and Concert 9/20 12pam
Main Street Chillicothe and the Downtown Merchants have a Wine Walk, October 6th. Main Street Director Ben White says this event includes several downtown merchants.
<Audio:White 1>
Wine glasses may be purchased prior to the Wine Walk at the Main Street Office, above the Chamber of Commerce.
White encourages everyone to remain downtown on October 6th for a free concert at Silver Moon Plaza.
<Audio:White 2>
A cash bar and food vendors will be on hand during the concert.


R-II School Board Amends Budget 9/20 6am
The Chillicothe R-II Budget was amended Tuesday due to an increase in the districts Assessed Valuation. Superintendent Dr Roger Barnes says when the Assessed valuation increases, the state can require the tax levy to be reduced.
<Audio:Dr Barnes 1>
Dr Barnes says the adjustment is meant to be revenue neutral, but the assessed valuation will mean a small increase for the district.
<Audio:Dr Barnes 2>
The board also made amendments to the budget for the salary schedule where teachers have continued their education.
Barnes says after the amendments to the budget, the district reserves will increase from 15.61% to 16.55%


Chillicothe Tuition Rate for 2018/19 Set 9/20 6am
The tuition rate for the Chillicothe R-II School District in the 2018/19 school year is increased to $7,870, up about $500 from the current school year. Dr Roger Barnes says that is due to increased expenses.
<Audio:Dr Barnes 1>
The School Board sets the district tuition rate early to allow the other school districts to properly plan there budget for the coming year.


Braymer Woman Injured In ATV Accident 9/20 6am
A Braymer woman was injured in an ATV accident in Caldwell County Tuesday evening. Nineteen year old Brandi Warzala of Braymer was taken to Liberty Hospital for treatment following the accident at about 6:30 pm on Route A in Braymer. Warzala was northbound on Route A when she lost control of the ATV and ran off the road, hitting the ditch and the ATV overturned and she was ejected.


Chillicothe Police Report Several Investigations 9/20 6am
The Chillicothe Police Department report includes several investigations.
Monday afternoon, officers were called to the 400 block of Calhoun on a Children's Division hotline investigation.
Monday evening, a report of a domestic disturbance was investigated at US 36 and US 65. The incident was verbal and no arrests were made.
Early Tuesday morning, officers were called to Hedrick Medical Center emergency room for a juvenile girl, who was violent and out of control. The officers took the girl to a secured facility.
A domestic disturbance Tuesday afternoon in the 1500 block of Bryan was verbal and no arrests were made.
Tuesday evening, officers investigated a report of a violation of an Order Of Protection in the 300 block of Clay Street. The incident remains under investigation.


Elementary Teachers Apply For Grants 9/20 6am
The Chillicothe Elementary Schools are applying for grants to assist with their education plans. The School Board approved the schools applying for the grants. Superintendent Dr Roger Barnes says there is no match on these grants.
<Audio:Dr Barnes 1>
The teachers at the various schools will apply for grants throughout the school year.



CMU Begings Electric Billing Changes In October 9/19 12pm
Chillicothe Municipal Utilities electric customers will see some changes in their billing starting in October. Finance Director Katie Jeffers says CMU launched a multi-step timeline to bring greater balance and fairness to its rate design. Jeffers says over the next five years, customers will see changes in their billing.
<Audio:Jeffers 1>
Jeffers says their webpage, www.cmuchillicothe.com, has a link for frequently asked questions about the changes. You can also call the CMU office at 646-1683.


Fall Prevention Health Fair 9/19 12pm
A Fall Prevention Awareness Health Fair is September 25th at the Grand River Multi-Purpose Center. Amanda Spainhour says there are several activities from 11:00 am to 1:00 pm
<Audio:Spainhour 1>
Prizes will be awarded and they offer healthy snacks.
To find out more about the Fall Prevention Awareness Health Fair, September 25th at the Grand River Multi-Purpose Center, call 646-1555.


Two Headed To Department Of Corrections 9/19 12pm
The Livingston County Sheriff's Department will transport two individuals to the Department of Corrections following their recent court appearances.
29 year old Thomas Gamble of Hale is sentenced to 7 years for possession of a controlled substance
38 year old Sandra Bogle of Chillicothe is sentenced to 5 years and a 120 day program for a probation violation on possession of a controlled substance.
They will be taken to the Department of Corrections at the earliest convenience.


Graves To Visit "The Bottom Of The Lake" 9/19 12pm
Representative Sam Graves will visit the "Bottom of the Lake" at the East Locust Creek Reservoir project this week. North Central Missouri Regional Water Commission and the East Locust Creek Reservoir Project Team will meet at the bottom of the proposed East Locust Creek Reservoir in Boynton, Missouri, 10 minutes north of Milan, just off Highway 5. Congressman Graves, an ardent and long-term supporter of the desperately needed reservoir asked for a briefing on the progress of the 2,352 acre reservoir. The briefing is at one of the two remaining houses in Boynton, Friday at 1:45 pm. The briefing will include a display of the reservoir layout and orientation of the dam.
The North Central Missouri Regional Water Commission recently announced it had acquired the 4,550 acres that will be home to the reservoir. The project is overseen by the Natural Resources Conservation Service, but is owned by the Commission. It will be a public lake that will provide water supply, recreation and flood mitigation benefits to ten counties in North Central Missouri.



Habitat For Humanity Orientation 9/19 12pm
Families in Livingston county interested in becoming the next Habitat for Humanity Homeowners need to attend the orientation October 2nd at Farmers Electric Cooperative. Connie Epperson from Habitat for Humanity says the meeting begins at 6:30 and will include an application and information about Habitat for Humanity.
<Audio:Epperson 1>
To be considered, Epperson says you must attend the orientation.
<Audio:Epperson 2>
The Orientation meeting for the Chillicothe Habitat for Humanity is October 2nd at 6:30 pm at the Farmers Electric Cooperative Office. Epperson says Habitat for Humanity is a Hand Up, Not A Hand Out!



Dense Fog Advisory This Morning 9/19 6am
A Dense Fog Advisory includes all of the KCHI listening area this morning. National Weather Service Meteorologist Jared Leighton says it is quite thick this morning.
<Audio:Leighton 1>
Leighton says if you are heading west, the fog will become less of a problem near Cameron and no issue at St Joseph and Kansas City.


Three Arrested In Grundy County 9/19 6am
State Troopers arrested three in Grundy County Monday evening.
At about 6:30 pm, officers arrested 20 year old Lucas Burridge of Stillwater, MN, 20 year old Jacopo Valentini of Italy and 19 year old Grant Jacobs of Magnolia, TX for alleged possession of a controlled substance, possession of marijuana and possession of drug paraphernalia. In addition, Jacobs was arrested for speeding and driving left of the centerline within 100 feet of an intersection.
All three were processed at the Grundy County Jail and later released.


Joy Toy Project Collecting Toys For Christmas 9/19 6am
It is only September, but the 55 and Go (RSVP) Joy Toy project is gathering toys as they prepare for their annual Christmas Toy Distribution in early December. 55 and Go Director Patty Mefford says they are in need of all types of toys.
<Audio:Mefford 1>
Mefford says they also need volunteers to help prepare the toys by cleaning them and making sure they are complete. 55 and Go also accepts donations of money to help with the purchase of batteries for the toys and for bike parts when needed.
If you would like to donate, the toys may be dropped off at the 55 and Go - RSVP Center on Locust Street during normal business hours. If you need a few things picked up or more information, call them at 646-0010.


Chief Deputy Receives Training 9/19 6am
Members of the Livingston County Sheriff's Department attend continuing education programs throughout the year. Sheriff Steve Cox says the Chief Deputy, Michael Claypole, recently attended a law enforcement conference where he received up to date training in several areas, including:
Drunk Driver Crashes, Complete Traffic Stop on Drug and Criminal Interdiction, Racial Profiling, Traffic Safety Initiatives, Managing Risk Management, Effective Courtroom Testimony, Drive to Survive, Breath Testing Updates, Department of Revenue Legal Updates, Commercial Motor Vehicle Traffic Enforcement Updates and Guard Rail Impact Studies.
Cox says Chief Deputy Claypole does an excellent job for law enforcement in North Missouri and works very hard for all the citizens in Livingston County.


Public Hearing For Chillicothe Historic Overlay District 9/18 12pm
A public hearing for comments on a proposed Historic Overlay District for Downtown Chillicothe is planned for October 2nd at City Hall. The Planning and Zoning commission will hear comments October 2nd, beginning at 5:30 pm. The public hearing is primarily for those that own property in and near the downtown area and those who want to voice their opinion on the proposal. Mainstreet Chillicothe requested the Overlay District and Director Ben White says this is roughly bounded by Ann, Walnut, Calhoun and Elm Streets and includes only commercial properties.
<Audio:White 1>
White says this would not affect any plans you may have for the interior of the building.
He says if this is approved by the commission and the City Council, by ordinance a new board would be formed.
<Audio:White 2>
If you want to know more about the proposed Historic Overlay District, White asks that you call the Main Street office at 646-4071. The public hearing is October 2nd at 5:30 pm at City Hall.


Work On Brunswick Street Begins This Week 9/18 12pm
Work on Brunswick Street, from Third Street, south to the railroad begins this week. Assistant Street Superintendent Jeff Gillespie says the work include the removal of the current road surface, installation of new storm drainage lines and replacing the road surface with concrete to match the work done last year south of the railroad tracks.
While the road will be closed during the two to three week project, the contractor, M&M Utilities will maintain access to the driveways for the homeowners.
Timing for the project is weather dependent.


Old Time Harvest Days Begins Friday At Fairgrounds 9/18 12pm
Old Time Harvest Days is this Friday and Saturday at the Livingston County Fairgrounds. President of the Livingston County Steam and Gas Association, Mike Williams says this years featured attraction is the display of old time household appliances.
<Audio:Williams 1>
Williams says the event is more than just old time tractors.
<Audio:Williams 2>
There is no admission charge this year for the Old Time Harvest Days.



LifeFlight Eagle Open House and Presentations 9/18 6am
The ribbon cutting and open house for LifeFlight Eagle on Saturday included a ceremony where several people were recognized for their part in bringing LifeFlight to Chillicothe.
Roxanne Shanks, CEO of LifeFlight, addressed the large crowd during the ceremonies. Shanks says the first and biggest advocate in bringing LifeFlight to Chillicothe was Fire Chief Darrell Wright.
<Audio:Shanks 1>
Shanks also recognized the City Staff for all of the work that has been put into the completion of the hanger, including by the Chillicothe Airport, Streets Department and at City Hall. As recognition, plaques were presented to the Mayor and to Fire Chief Darrell Wright. Wright was also presented with a hand carved wooden replica of the LifeFlight Eagle Helicopter.



Drug Investigation Follow-Up 9/18 6am
The Livingston County Sheriff's Department is working with the NITRO Federal Task Force on an investigation of methamphetamine and drugs. On September 6th, deputies did a follow-up on the investigation which included seizure of a significant quantity of methamphetamine along with various prescription medications, scales, and other items commonly used in the distribution of controlled substances.
Cox says suspects are currently not in Livingston County but are known to law enforcement and arrest warrants will be applied for in Livingston County Court and possibly Federal Court soon. He says at least one suspect has an extensive criminal history which can make pending charges even more significant.



Chillicothe Police Report Arrests 9/18 6am
Several arrests are in the Chillicothe Police Department report for the weekend.
Friday, officers responded to a call for domestic disturbance in the 1500 block of Jackson Street. They arrested Jesse Lee Stottlemyre for alleged domestic assault. He was held at the Daviess Dekalb Regional Jail.
Friday afternoon, officers arrested Mickaela Storm Hartman on a Chillicothe warrant for alleged failure to obey judge's order/contempt. She posted bond and was released.
Sunday, officers were called to the 1100 block of Calhoun and took a report of tampering with mail. The investigation continues.
Sunday, officers were called for a possible verbal threat of bodily harm which was made in the area of Graves St. and Green St. Officers arrested Trevor James Petree for alleged minor visibly intoxicated. Officers also contacted two juveniles and reports were sent to the Livingston County Juvenile Office.



Local Accidents Investigated 9/18 6am
Chillicothe Police investigated three accidents.
Friday, officers were called to Second and Elm Street at about 10:00 am, where a vehicle driven by Maelaina R. Vanfossen was hit by a vehicle driven by Lesley A. Patek, when Vanfossen pulled into the path of Patek. No injuries were reported. No-one was injured.
An accident Saturday at about 3:00 pm in the 100 block of West Business 36 happened when Rebecca R. Biegel hit a parked car. No injuries were reported.
Saturday at about 4:30 pm, an accident at Washington and Waples left one person injured. The report states Brenda Y. Palmer hit a vehicle driven by Bethany N. Masuch after Masuch failed to yield the right-of-way. Palmer was transported to Hedrick Medical Center for treatment. Masuch was cited for failure to yield the right-of-way causing a crash.


St Columban's Un-Sung Heroes 9/18 6am
St Columban's Catholic Church Fall Festival include activities, Music and food as the community attended their annual fundraising event. Father Benjamin Kneib opened the event with a prayer and with recognition of two unsung heroes for the parish. These a gentlemen who provide their services to the parish and donít seek recognition for their efforts.
Fr Kneib first recognized David May for his work helping both at the church and at Bishop Hogan school, including repairing water fountains, changing filters, replacing light ballasts and installing faucets and ceiling fans. He also helps with funeral meals, delivers mobile meals and is a leader in the Knights of Columbus. Fr Kneib called Dave May an asset to the parish community.
Fr Kneib also recognized Charlie Stedem for all he has done for the church over the years. Stedem can be found at many church activities, often before they begin, working to set up table and chairs, serving food and helping with the clean-up afterward. He will take thing to be repaired when needed and will often handle some clean-up just because it needs to be done.
Congratulations to Dave May and Charlie Stedem, the 2017 St Columban's UnSung Heroes.


Kiwanis Kids Day Parage Winners 9/18 6am
The annual Kiwanis Kids Day Parade had more than 40 children involved Saturday morning, many were in costume and all had a good time. The Chillicothe Kiwanis Club presented awards in 4 categories. The first place winners include:
Individual Girls: Scarecrow - Kylee Link
Individual Boys: Colonel Sanders - Clayton Link
Small Group: Candyland - Decker, Hadley and Harlow Rardon
Large Group: Rogue Two - Garrett Wheeler, Collin Wheeler ,Emerson Staton, Hayden Barnes, Ben, Ella, Ana Cady, Josiah & Sam Kerner
The Chillicothe Kiwanis Club was assisted by the Chillicothe Police and Fire Department, CHS Key Club and many volunteers.