Livingston County Commission To Discuss AC 7/24 12pm
The Livingston County Commissioners will discussion air conditioning when they meet Tuesday. The commissioners meet at 9:30 am. At that time, Dwight George will address the commission about the AC Units at the Sheriff's office.


Brookfield City Council Meets Tuesday 7/24 12pm
The Brookfield City Council meets Tuesday evening. The meeting begins at 6:00 pm at City Hall. The agenda includes reports from a couple city boards and the council will then consider a resolution for the wastewater plant Engineer's Certificate of Approval. There will have bids for propane, a resolution for financial disclosures and consider a recommendation from the Board of Adjustments.
An executive session is planned following the regular meeting.


Green Township Fire Fighter Dies After Responding To Trailer Fire 7/24 6am
A Green Township Firefighter died Sunday after responding to a travel trailer fire near Utica Sunday morning. Fire Fighter Ed Cosgrove, a 15 year veteran of the Green Township Fire Protection District, suffered a medical emergency at the scene of a fire on US 36. Cosgrove received immediate treatment by First Responders on the scene, including CPR, until the Chillicothe Ambulance Crew arrived and he was transported to Hedrick Medical Center, where he later died.
Local officials are working with the Missouri Fire Service Funeral Assistance Team and funeral arrangements will be announced when they become available.


Canadian Couple Died in Rollover Accident Sunday 7/24 6am
A single vehicle accident near Chillicothe Sunday morning took the lives of a Canadian couple. The Missouri Highway Patrol reports 58 year old Leslie Oman and 56 year old Sharee Oman, both of Saskatchewan Canada, died at the scene of the accident on US 36 at LIV 255, 3 and a half miles east of Chillicothe. The Oman's were passengers in a pick-up driven by 67 year old Larry Braun of Alberta Canada, who suffered moderate injuries in the accident and was taken to Hedrick Medical Center for Treatment. The report states Braun was Eastbound on US 36 at about 11:00 am, when he ran off the Southside of the road and hit an embankment. The truck went airborne across LIV 255 and came to rest on its top. All three were wearing safety belts.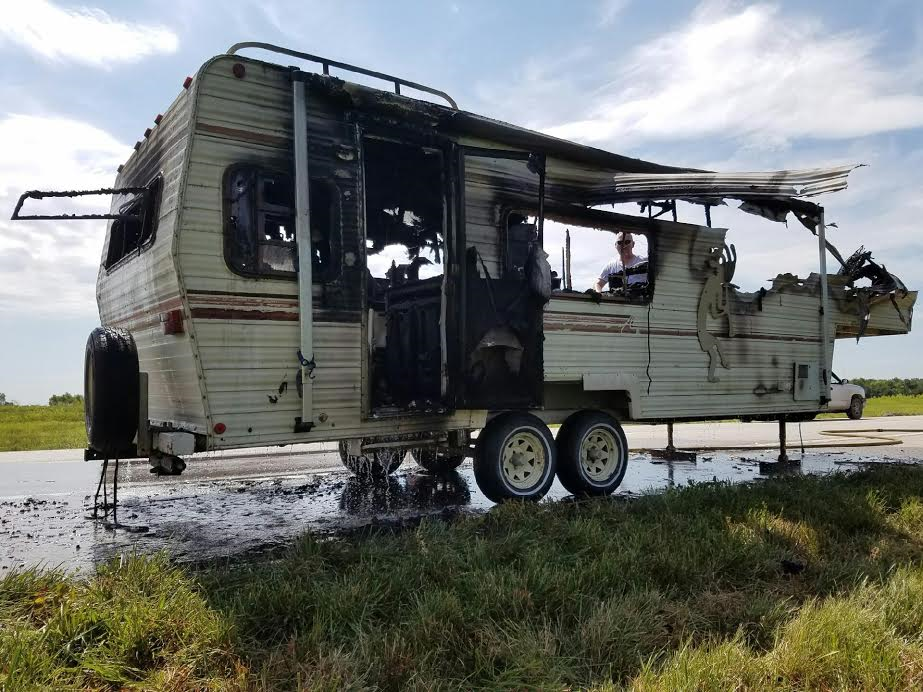 Travel Trailer Fire Near Utica Includes Explosion 7/24 6am
A fire destroyed a Travel Trailer near Utica Sunday morning. The fire, on US 36, included an explosion. A Livingston County Sheriff's Deputy arrived on the scene and the owner of the trailer told him he had removed the propane tanks from the trailer, but there may be a couple small propane bottles in the trailer. The deputy stopped traffic in time as at least one small propane bottle exploded and went through the side of the camper.
Green Township Fire Department responded to the Scene for the fire. The camper was a total loss.


Five Injured in Accident Near Gallatin Saturday Night 7/24 6am
Several area residents were injured, including two young children, in an accident near Gallatin Saturday night on Highway 13. State Troopers report 18 year old Taylor Rash of Polo had moderate injuries and 4 year old Brently Hogan of Jameson had minor injuries and were taken to Cameron Regional Hospital, they were passengers in the vehicle driven by 22 year old Aubrey Huston of Jameson. Twenty-seven year old Misty Griffin and passenger 23 year old Brendon Cosgrove of Trenton had moderate injuries, and 2 year old Hunter Griffin had minor injuries. The Griffins were taken to Liberty Hospital and Cosgrove was taken to a Hospital in St. Joseph.
The report states, at about 11:00 pm, Aubrey Huston was westbound and failed to stop at a stop sign at Highway 13 and pulled into the path of the southbound vehicle driven by Griffin. Huston was not injured in the accident.


Chillicothe Police Report Two Arrests 7/24 6am
Chillicothe Police reported two arrests over the weekend.
Saturday, just after midnight, officers arrested Ted Greene for alleged driving while suspended, no insurance, and failing to register a motor vehicle. The arrest followed a traffic stop at Jackson and Elm. Greene was processed and released.
Sunday at 3:00 pm, officers arrested Steven Johnson in the 1500 block of Locust Street for alleged driving while suspended. Johnson was processed and released after posting bond.


Illinois Man Arrested After Stop For 110 MPH 7/24 6am
An Illinois man was arrested Saturday afternoon in Livingston County. State Troopers arrested 22 year old Asif Ali for alleged 110 in a 65 zone, possession of marijuana and unlawful use of drug paraphernalia. He was held at the Daviess Dekalb Regional Jail pending the posting of bond.


Easter District Commission Race - Phil Minnick 7/24 6am
The race of the Eastern District Livingston County Commission seat includes Two Republicans and two Democrats. We have already heard from the Republican Candidates and today we hear from the first of the Democrats, Phil Minnick.
County finances are an issue that the commissioners have to deal with every year. Minnick explains his thoughts on the county finances.
<Audio: Minnick 1>
The Livingston County roads are an issue the County Commission deals with regularly. The presiding commissioner has proposed working with the townships on the roads. Minnick gives his thoughts on the roads issue.
<Audio: Minnick 2>
Minnick explains why he wants to be the next Eastern District Commissioner.
<Audio: Minnick 3>
Tuesday, KCHI will hear from Minnick's opponent Jim Grozinger.


Chillicothe Teen Charged With Sex Crime 7/23 6am
A Chillicothe teen was arrested for alleged Promoting A Sexual Performance By A Child. Jonathan Patrick Patterson was arrested Wednesday by Chillicothe Police and is held at the Daviess Dekalb Regional Jail with bond set at $20,000 cash only. If Patterson makes bond he is to have no unsupervised contact with any child under the age of 17.



Stay Hydrated - Drink Water 7/23 6am
When it's hot and humid, you need to stay hydrated and water is the best choice. But why water instead of other options? Ann Burchett from the Livingston County Health Center explains.
<Audio: Burchett 1>
But why is it best for when it is very hot?
<Audio: Burchett 2>
Caffeine is also a diuretic, and promotes your bodies processing of water as waste.
Burchett says avoid alcohol in high heat situations.
<Audio: Burchett 3>
The general recommendation of water intake each day is 8 cups or about 2 liters. When you are sweating heavily, you can increase that to stay hydrated through the day


Troopers Arrest Four In Area Counties 7/23 6am
A Kansas City man was arrested in Linn county Friday evening. 37 year old Ruben Rebollo Mora was arrested for alleged speeding, no drivers license and child restraint violations. He was processed and released.
Early this morning, Troopers in Linn County arrested two 18 year olds. Johnna Jones of Marceline and Raul Rivas of Milan were arrested for alleged Minors in Possession of Alcohol. They were processed and released.
In Carroll County, just after midnight, 21 year old James Heil of Norborne was arrested for alleged DWI and failing to stop at a stop sign. He was processed and released.



Livingston Co. Fair Rodeo Fundraiser 7/23 6am
The 2nd annual Livingston County Fair Rodeo will be August 5th and 6th at the fairgrounds arena. Fair Board President David Beck says it is a fundraiser for the fair and will include bulls, broncs, roping and mutton busting for the kids.
<Audio: Beckt 1>
Beck says Mutton busting is a fun part of the program.
<Audio: Beckt 2>
The program is presented by the MRCA and URA. Tickets at the gate are $10 for adults, kids 6-12 years old its $5 and 5 and under are free.


Lots of Road Work in the Area 7/23 6am
The Missouri Department of Transportation has a variety of roadwork scheduled across the northwest part of the state in the coming week. That includes pothole patching, mowing, signage and drainage work. In the local counties:
Caldwell County
US 36 in Hamilton, continued pavement repair project all week. This will include:
Eastbound and Westbound lanes CLOSED from 9 am to 5 pm daily, with traffic redirected to the Highway 13 ramps. This Includes a 12-foot width restriction.
There will also be an around-the-clock closures of the east and westbound driving lanes on US 36. The passing lanes will remain open in each direction between 5 pm and 9 am daily
In addition, Highway 13 is narrowed to one lane at the US 36 Overpass in Hamilton for maintenance, all week
Carroll County
Route 41 - Bridge Maintenance at the Wakenda Chute Bridge - Tuesday and Wednesday
Route U - CLOSED from US 65 to County Road 241 for a culvert replacement, Thursday, 8 am to 2:30 pm.
Chariton County
Route ZZ - CLOSED from Parish Road to Clark Road for a culvert replacement, Friday, 7 am to 3 pm.
Daviess County
Route B - Bridge Maintenance at the I-35 Overpass Bridge all week
Grundy County
Route A - CLOSED from NW 95th Street to NW 90th Street for a culvert replacement, Friday, 8 am to 2 pm.
Linn County
Route 5 - Bridge Maintenance from Fawn Road to Delco Road, Monday and Tuesday
US Route 36 - Westbound from Route 139 to Crow Road for culvert repair, Monday - Thursday
Route 11 - CLOSED from Nile Drive to Nevada Road for a culvert replacement, Wednesday, 7 am to 3 pm.
Route WW - CLOSED from Lunar Drive to Route ZZ for a culvert replacement, Thursday, 7 am to 3 pm.
Livingston County
US 36 - Bridge Maintenance at the Grand River Overflow Bridge on Monday